RollerCoaster Tycoon 3 is a construction and management simulation computer game. It is the third installment in the RollerCoaster Tycoon series, first released on October 26, 2004 in North America. RollerCoaster Tycoon 3 places players in charge of managing amusement parks; rides can be built or demolished, terrain and scenery can be adjusted, and prices can be controlled to keep visitors or "peeps" happy.[1]
RollerCoaster Tycoon 3 features two methods of gameplay. In career mode, players must complete predetermined objectives in predesigned scenarios. In the new sandbox mode, players have unlimited time and money to create their own custom parks and rides.[2] New features include the ability to import and export custom attractions, design custom scenarios and peeps, as well as design an in-game rollercoaster and a fully three-dimensional world players can view from all angles.
---
Gameplay:
---
Like the previous games in the series, RollerCoaster Tycoon 3 is a strategy and simulation game in which players manage all aspects of an amusement park by building or removing rides, scenery and amenities, placing shops and facilities, adjusting the park's finances, hiring staff, and keeping the park visitors, known as "peeps", happy. RollerCoaster Tycoon 3 features two main game modes. The career mode features scenarios where players must accomplish goals, such as impressing a visiting celebrity or attaining a certain park rating. Each scenario has three levels of objectives, which are ranked as Apprentice, Entrepreneur, and Tycoon; the higher the level, the more challenging the goal is to complete. A third of the scenarios are playable from the start, with the rest unlocked when the player completes the objectives at each level. The second mode of play is the sandbox mode. Players are given a large, empty plot of land and unlimited funds with which to build their own custom parks.[3]
A wooden roller coaster designed in Sandbox mode

RollerCoaster Tycoon 3 includes new gameplay features such as the CoasterCam, which allows players to "ride" roller coasters and other rides,[3] and the MixMaster, which allows the player to coordinate firework shows and time them to in-game music.[3] Unlike the two previous versions of the game, RollerCoaster Tycoon and RollerCoaster Tycoon 2, the guests, called "peeps", arrive in groups and show variation in gender and age, including children, teenagers and adults. A day/night cycle changes the demographics of the park's peeps; rides at night appeal to teenagers, while the daytime attracts families with children. Peeps can be harmed and injured by crashing vehicles, but will never die as they did in the previous titles, and if placed in water they will swim out. When cars derail from the tracks, they explode after a short period, whereas in the older games, they exploded on contact. Furthermore, a new feature was added in which, after a cheat code was entered, people could utilize the Peep Cam from which they could see the park through a peeps' eyes.[4] Parks now have opening and closing times, and the time of day is displayed. Scenery is divided into themes to customize parks, with western-, spooky-, science fiction-, prehistoric-, tropic (Paradise Island)- atlantis- and adventure-themed pieces.[5] Another feature is the ability to import coasters from previous games in the series into RCT3.
The game uses full 3D graphics instead of the isometric viewpoint of the previous games; this means that players can rotate and zoom the view of the park to any degree. However, there is an option to fix the camera's rotation to a preset angle, as in the previous games. 3D land shaping is also available for creating mountains and hills inside the park, as well as the ability to change portions of the land into water.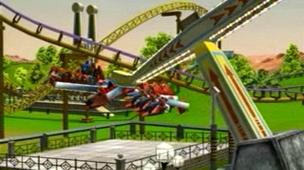 Pages in category "Rollercoaster Tycoon 3: Platinum Edition"
This category contains only the following page.
Ad blocker interference detected!
Wikia is a free-to-use site that makes money from advertising. We have a modified experience for viewers using ad blockers

Wikia is not accessible if you've made further modifications. Remove the custom ad blocker rule(s) and the page will load as expected.